~~~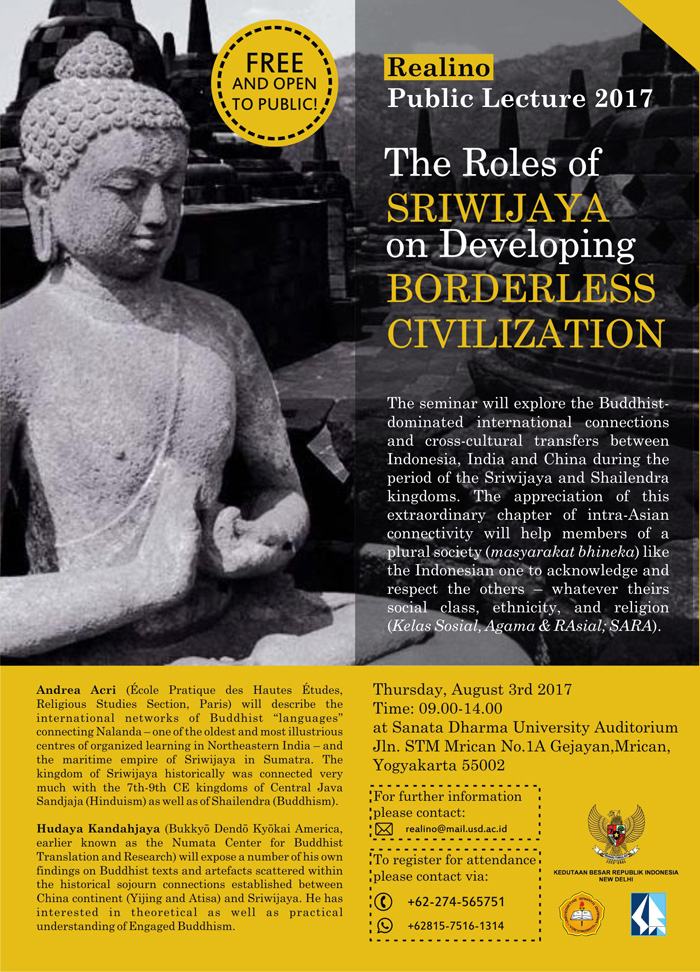 Educational & Cultural Attache of Indonesian Embassy in India
Sanata Dharma University
Studio Audio Visual PUSKAT
Realino Study Institute
The Roles of Sriwijaya on Developing
Borderless Civilization
Thursday, August 3, 2017; Time: 09:00–14:00
Driyarkara Auditorium, Sanata Dharma University, Yogyakarta, Indonesia
The coming August 3, 2017 one day seminar will revisit historical Buddhist values engaged and experienced by people in Indonesia and its international politico economics and cultural connections. Plenty of artefacts and texts of esoteric Buddhism venerated by Sriwijaya as well as of Shailendra dynasties, for example, contributed to imagined socio-political and cultural recognition and tolerance with regard to religious differences and its potential and vulnerable conflicts and violence at any given time and place.
Contemporary Wonderful Indonesia – Indonesia Hebat – imagined by Indonesian national and cosmopolitan communities supposedly have remembered – for example, by way of certain esoteric Indonesian Buddhist meaningful public shared texts and artefacts – not to forget the tolerance and its related matters.
James T. Siegel, an anthropologist, claimed that the history of Indonesia nation and state is made not from autochthonous sources and not from foreign borrowings but from the effects of these connections provided and maintained by bahasa Indonesia, the lingua franca. The bahasa that Siegel noted as a public shared language that does not stir a sense of rikuh (feel awkward or ashamed in the presence of one's betters) and has no mirroring representation exercised by its speakers when they deal with one to another. He also argued that the role of languages – its related words, ideas, and realities – is not to stimulate identification; it is merely to establish a fantasy of connections. Identification, perhaps, occurs only when communication is thought to work in both direction (See, James T. Siegel, Fetish, Recognition,Revolution. Princeton, New Jersey: Princeton University Press, 1997, p.6-7, 44, 93)
The seminar will explore the Buddhist-dominated international connections and cross-cultural transfers between Indonesia, India and China during the period of the Sriwijaya and Shailendra kingdoms. The appreciation of this extraordinary chapter of intra-Asian connectivity will help members of a plural society (masyarakat bhineka) like the
Indonesian one to acknowledge and respect the others – whatever theirs social class, ethnicity, and religion (Kelas Sosial, Agama & RAsial; SARA).
Speakers
Andrea Acri (École Pratique des Hautes Études, Religious Studies Section, Paris) will describe the international networks of Buddhist "languages" connecting Nalanda – one of the oldest and most illustrious centres of organized learning in Northeastern India – and the maritime kingdom of Sriwijaya in Sumatra. The kingdom of Sriwijaya historically was connected with the 7th-9th CE Shailendra and Sanjaya kingdoms of Central Java, sponsoring Buddhism and Hinduism, respectively.
Hudaya Kandahjaya (Bukkyō Dendō Kyōkai America, earlier known as the Numata Center for Buddhist Translation and Research) will expose a number of his own findings on Buddhist texts and artefacts scattered within the historical sojourn connections established between China continent (Yijing and Atisa) and Sriwijaya. He has interested in theoretical as well as practical understanding of Engaged Buddhism.
Additional Informations
Video-films of Learning from Borobudur (SAV-PUSKAT, 1990) and Abathi 2015 (Rama Suprapta Production, GELAR and Coconut Mind, 2015) tentatively will be screened during the seminar.

Organizer
This International Seminar is organized by a collaboration of: Educational & Cultural Attache of Indonesian Embassy in India, Realino Study Institute, and Sanata Dharma University. An academic collaboration that has believed that the Wonderful Indonesia with its lingua franca or bahasa and its related cultural matter rests not on the power within language (bahasa), the power of rhetoric; but on a cultural energy, the power to will behind language (Albert E. Alejo, Generating Energies in Mount Apo. Quezon City: Ateneo de Manila University Press, 2000. p.7)
Attendance Procedure
It is a free seminar. Interested participants may submit full name, institutional affiliation, email address; no later than Friday, July 21, 2017 to Lembaga Studi Realino: realino @mail.usd.ac.id or WhatsApp to +62-815-7516-1314.
Conference Logistics
Travel cost, accommodation, meals, etc. have to be arranged by each participant.
Travel Arrangement: Several direct international flight to and from Yogyakarta International Airport (i.e. Air Asia, Silk Air, MAS, Garuda, etc).
Accomodation located at walking distance from the conference site:
Jogjakarta Plaza Hotel, 3 minutes, price range at USD 46

Yellow Star Gejayan Hotel, 5 minutes, price range at USD 28

Puri Chorus Hotel, 10 minutes, price range at USD 21

EMBE ENEM Homestay, 5 minutes, price range at USD 20

Midtown Xpress Demangan Jogja Hotel, 10 minutes, price range at USD 27

The Edelweiss Hotel Yogyakarta, 10 minutes, price range at USD 22
Inquiries
Lembaga Studi Realino – Universitas Sanata Dharma
Jalan Affandi, Gejayan-Mrican, Tromolpos 29, Yogyakarta 55002
Telephone No : +62-274-565751
Mobile phone : +6281575161314
WA : +6281575161314
Facebook : Lembaga Studi Realino
Facsimile : +62-274-632-7090891
E-mail : realino@mail.usd.ac.id
Website : http://www.realino.usd.ac.id or http://www.usd.ac.id